After having previously done a drawing of Bruce Banner / Hulk and Bruce Wayne / Batman, I decided to do a Peter Parker / The Amazing Spider-Man mash-up. Since I draw freehand, I just try to guess where on the page to start and build out from there (which is frequently a problem. Ha…). I'd intended to do more of Spidey behind Peter but ran out of space as I drew Peter… so I decided a complete mash-up would be fun, reminding myself it's just a drawing, it's just for fun, and I can't really be "wrong" in however I decide to make it. So, about 2 nights into it, I decided to add a reflection of Emma Stone as Gwen Stacy in Spider-Man's eye and it just seemed to fit…
Peter is graphite pencil while Spider-Man is Prismacolor colored pencil, and Emma is also graphite. And I used a "Jet Black" Ebony graphite pencil for the black area and as black for the rest of the drawing. I've found that using a black colored pencil stands out TOO much from the rest of the piece.
Prints are on Etsy:
https://www.etsy.com/listing/191185972/drawing-print-of-andrew-garfield-as
After an Etsy customer expressed displeasure over Gwen Stacy's reflection in Spidey's eye and asked if something else could be replaced instead, I redrew just the eye piece and scanned it into Photoshop to make an alternate drawing. Check it out below…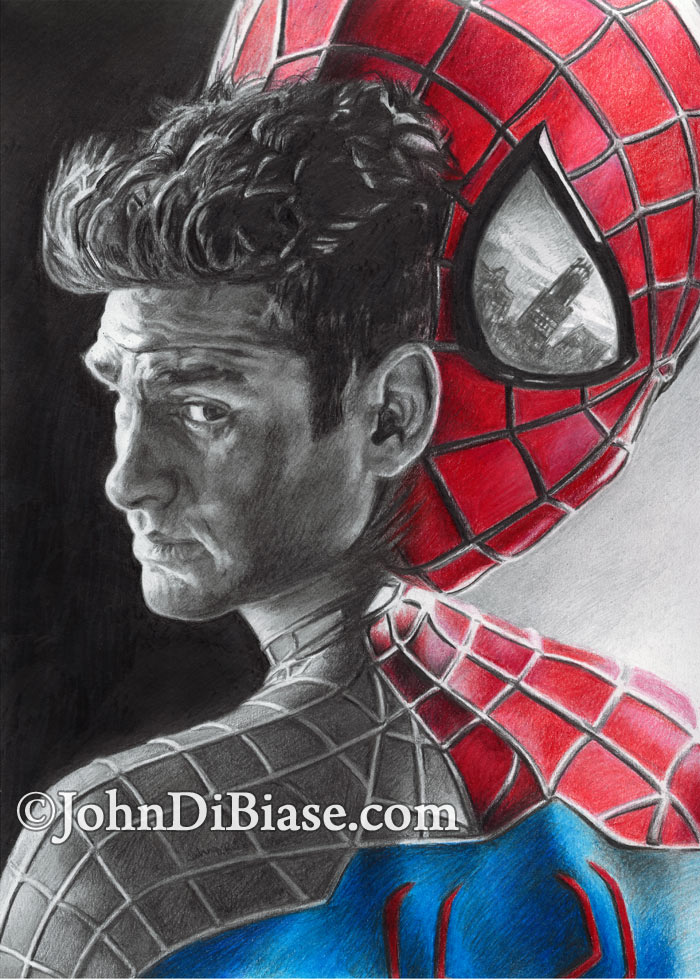 Which version do YOU like better?