Even for artists who enjoy to make their art by hand the traditional way, printing jobs are often still a regularity. While opening a pack of Star Wars trading cards a couple years ago, I found inside a trading card that simply had a still photo on the front and featured a discount code for Topps' online autographed memorabilia website on the back. This sparked an idea in my head — what about my own, printed trading cards with my own art store promo info on the back?
I hit the web to find a vendor for custom trading cards, and before long I found Primoprint's website. They offer standard size, full-color trading cards with the ability to even add a glossy UV coating to the card. And although I designed every bit of my own trading cards myself, they offer the option of getting a design from their own team.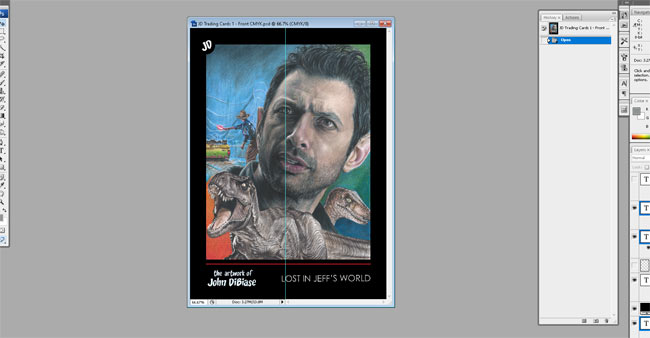 For designing the individual cards, I knew I didn't want to make just one, so the first card had to be numbered "one." And I had to then decide what in the world would be the artwork to feature on my first card. (I also LOVED the old 80's Topps cards and how they often teased a continuation on the next card, and I wanted to add that somehow.) It was some time after I'd completed a freehand colored pencil drawing of Jeff Goldblum as Dr. Ian Malcolm in the first two Jurassic Park films that I decided that that was the one to lead the pack. (And I knew I was hoping to meet him in person at a convention the following month and I wanted to hopefully give him one 🙂 )
For the design process, I took to Adobe Photoshop and worked on sizing the artwork to work for printing (and I gave the files a little extra edge to allow for "bleed" when printing… you DON'T want some of your artwork or text getting cropped off during the printing process!)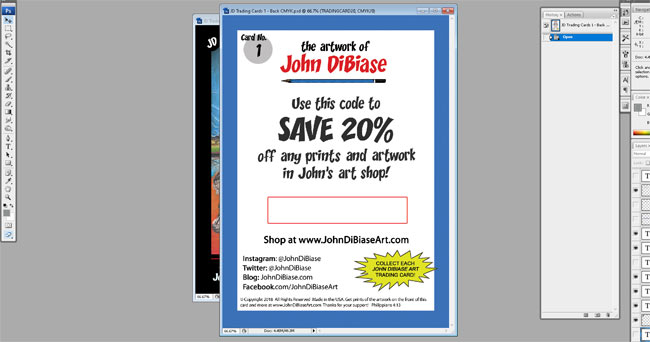 Over the course of the next year and a half, I designed and ordered three more cards (not including one for a client who wanted them for their photo studio's Santa Claus photoshoot customers), with the fourth one deviating from the previous format a little bit. I had been hoping to meet Dan Aykroyd at a signing event and I wanted to be able to give him a card as well, so I chose a drawing of the original four Ghostbusters that I had drawn for a customer back in 2016. (And since it's a drawing for my favorite film and one I don't have in my possession anymore, it seemed perfect to reprint on a card).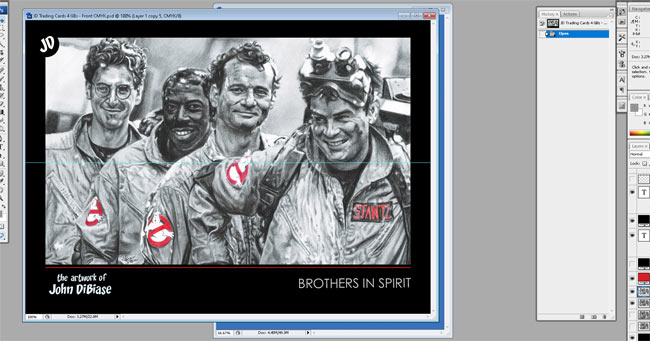 For the fourth card, I designed to switch the orientation from vertical to horizontal, which called for a design adjustment. Also, with the third card, I'd scaled down some of the text on the back and added some anecdotes about the artwork itself (makes sense, right?). It's a change I decided to continue for this one.
I honestly don't know what most customers do with the cards I add in to any given print order in my Etsy shop, but I do hope people like them. I've loved collecting trading cards since I was a little kid, and it's super fun to grow my own collection that feature my artwork. Be on the look out for cards number 5 and 6 soon! Which of my portrait drawings would YOU like to see printed on one of these trading cards?