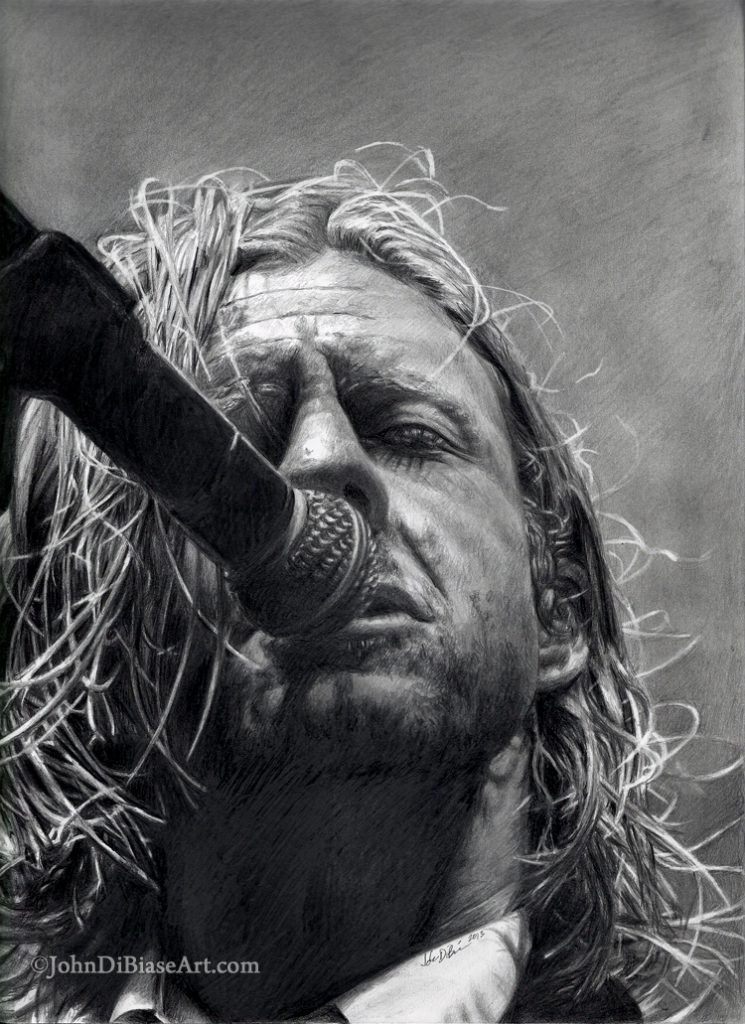 Truth be told, my first pencil portraits were of CCM artists back in the mid 90s. Artists like DC Talk and PFR were frequent subjects as I tried to figure out my way around drawing faces (they're quite embarrassing to look at today). Back around 2000 I did a drawing of Jon Foreman as I've actually been a fan of his band Switchfoot since 1997 when their debut album The Legend of Chin came out.
In 2010, I drew my first live concert photo drawing from a photograph I took of Mac Powell of Third Day. I recently thought it might be cool to give another one a try, and the source photo for this drawing was taken by me in September of last year at Uprise Festival. As with all of my drawings, I tackled this one freehand — just eyeballing the photo and trying to replicate it with a pencil on a piece of paper nearby — with no measuring, tracing, or grid involved.
It's certainly a challenge and it never comes easy. This one was especially challenging given the spastic hair and dramatic lighting (the scan of the drawing kind of flattened the black areas unfortunately). But I have to admit I really enjoyed this one… I plan to do more drawings from my concert photos soon…
This one was worked on from September 3 – September 10, 2013.
Link to Etsy for prints:
https://www.etsy.com/listing/162244281/drawing-print-of-jon-foreman-of?